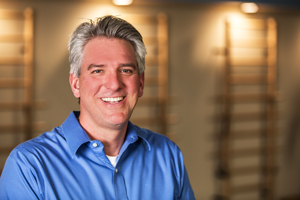 Jonathan Sherwood, PT, MSPT, OCS, ATC, CSCS, PES, MA
Jon Sherwood joined Ascent Physical Therapy in April of 2016. His history with Ascent Physical Therapy owners Kevin and Tammie Bigley dates back to the early 90's when they met at Seargent College of Allied Health Professions at Boston University where the 3 of them earned their Master of Science in Physical Therapy degrees. Prior to Boston, Jon attended the University of California Berkeley and graduated with a BA in Physical Education while also playing football with the Bears. He then went on to receive his masters degree in Physical Education & Exercise Physiology at California State University , Chico before moving to Boston. Jon's work experience has primarily been out west working in a variety of outpatient orthopedic clinics in Casper, WY, Billings, MT, and the Bay Area. He continues to work as a consultant for program development for UCSF's RunSafe program, a physical therapy consultant for UC Berkeley sports medicine department, and acting team physical therapists for America's Cup Challenger Professional Sailing Team Artemis Racing.
Other accolades Jon has earned include his OCS (orthopaedic certified specialist) from the American Board of Physical Therapy Specialties in 2006, his ATC (certified athletic trainer) in 2000, CSCS (certified strength & conditioning specialist) from the National Strength and Conditioning Association in 2005, and a PES (performance enhancement specialist) from the American College of Sports Medicine in 2005. He is also a ASTYM (augmentive soft tissue mobilization) certified therapist.
Besides bringing a wealth of knowledge and experience to Ascent Physical Therapy, Jon is also very active and has completed 2 Ironman's, 3 half Ironman's, and multiple endurance distance cycling, triathlon and running events.
Jon has been a member of the following organizations:
American Physical Therapy Association, Orthopedic section, Sports Medicine section, and Private Practice Section