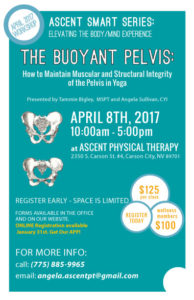 SMART SERIES: THE BUOYANT PELVIS
How to Maintain Muscular and Structural Integrity of the Pelvis in Yoga – Presented by Tammie Bigley, MSPT and Angela Sullivan, CYI
SATURDAY APRIL 8TH 10:00am – 5:00pm at Ascent Physical Therapy 2350 Carson St. #4, Carson City, NV 89701
Download REGISTRATION FORM for Buoyant Pelvis, April 2017

A balanced yogic body begins with well executed movements performed with great ease and care. But what is "balanced"? Many yoga instructors are unaware of normal range and function of critical junctures of the body, most particularly the pelvis.
In the practice of yoga, every asana (posture) has its root in the pelvic girdle. Any misalignment of the pelvis creates an imbalance, and a repeated misalignment elevates the risk for injury.
The purpose of this workshop is to highlight what represents normal mechanics of the pelvis and its application to a yoga practice. How to truly practice ahimsa (non-harming) and injury proof your student's practice.
OBJECTIVES:
Understanding the basic biomechanics and anatomy of the pelvis and surrounding region.
Recognizing the symptoms of sacroiliac joint dysfunction.
Practical application of sound biomechanics in asana to prevent pelvic girdle injuries.
SPACE IS LIMITED – Download Registration Form for Buoyant Pelvis, April 2017
COST: $100 Wellness Members | $125 per class
MORE INFO: 775.885.9965 – angela.ascentpt@gmail.com